Updates: City of Alexandria - Coronavirus
The Alexandria Health Department recommends that all community members change their daily behavior to reduce risk from COVID-19, particularly to protect our most vulnerable populations. The City of Alexandria has already taken proactive measures to further reduce risk and encourages all organizations and individuals to take necessary steps to prevent the spread of COVID-19. Attached are two helpful resources, which we encourage you to share, either electronically or by printing the flyers and making them available to those without easy access to traditional media or electronic devices. For up-to-date information on this rapidly evolving situation, visit www.alexandriava.gov/Coronavirus
STAY UP TO DATE. To make sure you have the most updated information, stay tuned to the Centers for Disease Control and Prevention (CDC) site, which also offers an infectious disease outbreak response plan for businesses.
Masks are required when entering all Public Spaces!
Take steps to protect yourself

Clean your hands often
- Wash your hands often with soap and water for at least 20 seconds especially after you have been in a public place, or after blowing your nose, coughing, or sneezing.
- If soap and water are not readily available, use a hand sanitizer that contains at least 60% alcohol. Cover all surfaces of your hands and rub them together until they feel dry.
- Avoid touching your eyes, nose, and mouth with unwashed hands.

Avoid close contact
- Avoid close contact with people who are sick
- Put distance between yourself and other people if COVID-19 is spreading in your community. This is especially important for people who are at higher risk of getting very sick.
For our Local Business Owners
Please let your customers know what steps you are taking to keep them and your employees safe. Display your plan at your business location and/or on your marketing channels, like e-mail, website, or social. The CDC recommends using a hospital-grade cleaning solution or taking additional steps like more frequent disinfecting as an extra precaution.
The Small Business Administration has recently announced $ 8 billion in funds available to help small businesses survive the impact of the Coronavirus on their business. Check the SBA site for updates and more information.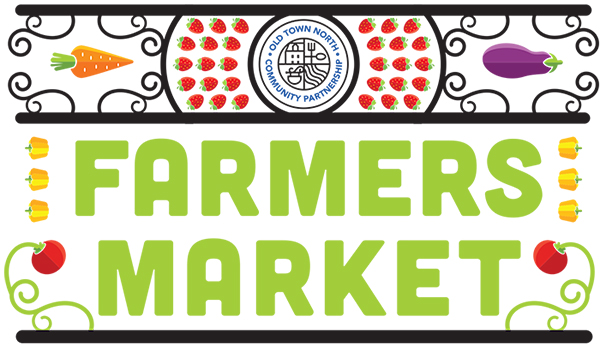 ON THE HORIZON
Summer Restaurant Week to Go!
August 21-30, 2020. Over sixty of Alexandria's favorite restaurants will be participating! Learn more at www.visitalexandriava.com
Details on which of Old Town North's Restaurants are joining the fun coming soon!

IN THE COMMUNITY
Free Yoga in the Fresh Air is on! Thursday, August 6th 5:00-6:00pm. Join us for an open level,  friendly flow class in Montgomery Park with River's Edge Yoga Studio, owner, Margaret Townsend. All are welcome! Wear a mask, bring your mat and enter at the market entrance, 901 North Royal Street. Enjoy an hour of yoga, followed by some delicious local food at the market. A perfect Thursday!
Get counted, it's not too late! The US Census continues through September 30th, 2020. Learn more here
Help us! Compost at the Market. Many of you have asked why there is no compost drop off at the Old Town North Thursday Market. We have lobbied with the City employees and elected officials since the market opened four years ago. Please reach out to Mayor Justin Wilson and his fellow City Council Members and Yon Lambert of Transportation and Environmental Services.
www.alexandriava.gov  /  703-746-4205
Many thanks to our local community banks, Burke and Herbert Bank and Trust and Capital Bank NA for their help and guidance to our local, small businesses as they negotiated the complexities of the Payroll Protection Plan. We look forward to welcoming a branch of Capital Bank to Old Town North in the near future. Learn more here.
Many thanks to our friends at the Alexandria Office of the Arts for sharing more of their Arts Kits with the neighborhood, always a big hit with kids, big and little.
Our friends at Grateful Kitchen continue to tempt the senses, enjoy! https://www.gratefulkitchenco.com/
Tennis Courts, Dog Parks and Playgrounds are open!
Trader Joe's is now accepting donations of food and household goods at the store in Old Town North
Sport and Health is open!
Many of your favorite restaurants are now offering limited outdoor dining along with preorder and curbside pick up.
Local Restaurants and our friends at the Zebra are offering Z coupons for discounts on meals throughout the week. Check it out!
The City of Alexandria Department of Recreation, Parks and Cultural Affairs has outlined the plan for Phase 3 reopening. Learn more here.
Great news! Alexandria City Libraries opening soon. Library News
We will continue to collect healthy non-perishable food for local food pantries. Donations may be left in the ALIVE Bin at the Community Table. We will be collecting food for the Animal Welfare League for their emergency food pantry. Helping animals and their owners during these challenging times.
 Check out Visit Alexandria for the complete list of vendors and restaurants offering curbside pick up or delivery. Stay well! www.visitalexandriava.com/.
Many of our neighborhood restaurants have suspended table service and are offering delivery and curbside pick up only. Restaurants offering these services include:
Extra Perks
Thanida Thais
a la Lucia
Perfect Pita
The Italian Place
Lost Dog Cafe
Elizabeth's Corner

We will have a list of restaurants offering curbside pick up and delivery services along with other small business and government updates on the Old Town North Community website in the next few days and will continue to post updates when we receive them.

Thank you to all of our neighbors and local businesses for their support of the Old Town North Community Partnership.
The Old Town North Community Partnership is looking for volunteers to help us with the market and other events throughout the year. Interested? We would love to hear from you. Please contact Margaret Townsend (River's Edge Yoga) 571-218-2161 or email: info@oldtownnorth.org