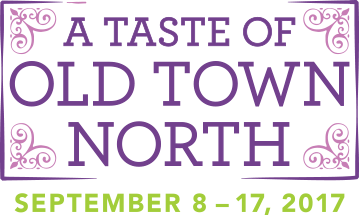 Many thanks to all who came out in support of the Taste of Old Town North Kick off on Friday, September 8th. By popular demand we are extending the Taste through the Fall and will continue to sell season passes and raffle tickets through noon, September 28th. Season passes offer pass holders discounts at local businesses and community events including Wheel Nuts Bike Shop,the upcoming Paws in the Park, and more. Raffle items include a Gift Card from Trader Joe's; value $25, a Ten Class Pass from River's Edge Yoga; value $140 and a Two Hour Residential or Commercial Design Consultation with LEED certified designer, Claire Tamburro of Tamburro Interiors; value $300. A portion of the proceeds from sales will benefit the Carpenter's Shelter. The raffle drawing will be held at the Farmers' Market on September 28th. We will be selling season passes and raffle tickets at the Community Table at the Farmers' Market or online.
---
Free Yoga in the Fresh Air
will begin at 6pm on Sept. 14. We welcome donations of healthy, nonperishable food for the Lazarus Ministry, and ALIVE. For additional information, please visit:
www.hungerfreealexandria.com/giving
---
City of Alexandria to Hold Annual Swims for Dogs Large and Small
– Treat your pooch to a late summertime dip at one of the City of Alexandria's Annual Dog Swims. Dogs under 50 pounds can enjoy a pool to themselves at the Itty Bitty Doggie Dive on Friday, September 15, from 4 to 7 p.m., at the Charles Houston Recreation Center Memorial Pool (901 Wythe St.). Dogs of all sizes can enjoy the Big Dog Day Swim on Saturday, September 16, from 10 a.m. to 1 p.m., at the Old Town Pool (1609 Cameron St.). Pre-registration is required. For more information, visit
www.alexandriava.gov/Aquatics
.
---
Music in the Parker-Gray neighborhood – Join our friends at
Meade Episcopal Church
for Jazz at Meade Episcopal. Sunday, September 17th at 4:00pm. 322 N Alfred St, Alexandria, VA 22314 703-549-1334
---
NOTICe Community Meeting on Development
will hold a community meeting on Thursday, Sept. 21. Members and Neighbors – all are welcome! Topic: Reinventing North Old Town
A Look at Current and Projected Development Projects. Refreshments at 7 and the meeting starts at 7:30.
Best Western Old Colony Inn
1101 North Washington Street
(Corner of Parkway access road and Second Street—parking available)
Upcoming Events
The Historic Alexandria Homes Tour is Sat Sept 23 from 10am-3pm. Eight beautiful homes and gardens featured in Old Town. For tickets visit www.thetwig.org
Family friendly fun! 3rd Annual Neon Night Glow Run September 23rd. Proceeds will benefit INOVA Children's Hospital. www.nwfcufoundation.org
On September 21, our Farmers' Market switches to our Fall Hours. We will be here from 3pm – 7pm.