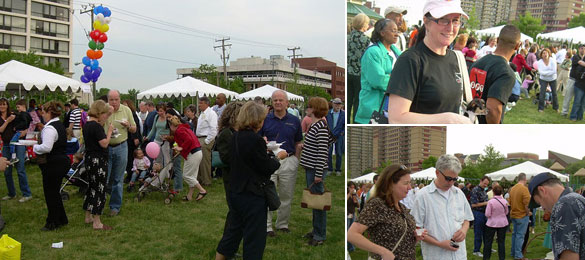 The Old Town North Community Partnership is an organization comprised of residents, small, local businesses and employees working to create a vital, vibrant community within Old Town North. We provide information to the community about events affecting the neighborhood through our website, e-newsletter and social media. In past years we have worked with the City of Alexandria on improvements to Montgomery Park and sponsored the Taste of Old Town North and Paws in the Park.
Our vision of Old Town North is of an attractive, mixed use neighborhood with Montgomery Park as a community hub, where residents can walk to a variety of local businesses, picnic in the Gazebo, play with their children in the playground and their dogs in the dog park. We support open space that serves the community, pedestrian access and well managed traffic and parking. We work to provide recreational and cultural activities for the community both in Old Town North and the metropolitan area.
Improve Old Town North's vital qualities and attractiveness to make it a better place to live and to operate a business
Strengthen Old Town North's linkage with the Old and Historic Alexandria District, the waterfront, and the George Washington Memorial Parkway
Provide leadership for the accomplishment of community improvement projects and implementation of urban design goals
Deliver the organizational means for expressing community needs and desires to City government decision-makers
Cooperate with other organizations and groups throughout Alexandria who are also seeking community-wide improvements
Educate on the benefits of mixed use development
Gregg Linzey

Yonie Dow, Treasurer
Laura Norfolk, CAE, CMP
Laura is a seasoned association manager and business professional with two businesses in Old Town North. Grateful Pup provides wholesome and organic dog treats to pups to keep them and their family happy, healthy, and together as long as possible. Fusion Meetings and Events/Fusion Management provides associations and non-profits with exceptional event planning, marketing, and membership services. A long time resident of Old Town North, she loves the vibrancy of the area and loves giving back. Her favorite decompress activity is walking Willie and Phoebe along the river in Tide Lock Park.
Claire Tamburro
With more than 24 years of experience in the interior design, retail, and food service industries, Ms. Tamburro brings a unique perspective to each project having worked as an interior designer, store manager, showroom assistant, shop clerk, waitress, hostess, and educator to better serve her hospitality and residential interior design clients… read more
Lon Smith
Margaret Townsend, President
Margaret Townsend is the owner and director of the River's Edge Yoga located in Old Town North the Executive Director of Yogis For Positive Change and the Founder and Chairperson of Virginia Yoga and Wellness Week.