OLD TOWN NORTH CANAL DISTRICT
MONTGOMERY PARK PARKING LOT
Farmers' Market Hours: 3:00-7:00pm
Did you know… Farmers Markets preserve farmland and support rural livelihoods? The Old Town North Farmers' Market is committed to supporting local family farms. This year we implemented a growers own policy at the market asking that our farmers sell only what they grow rather than buying from wholesalers. We are also encouraging our farmers to follow sustainable practices.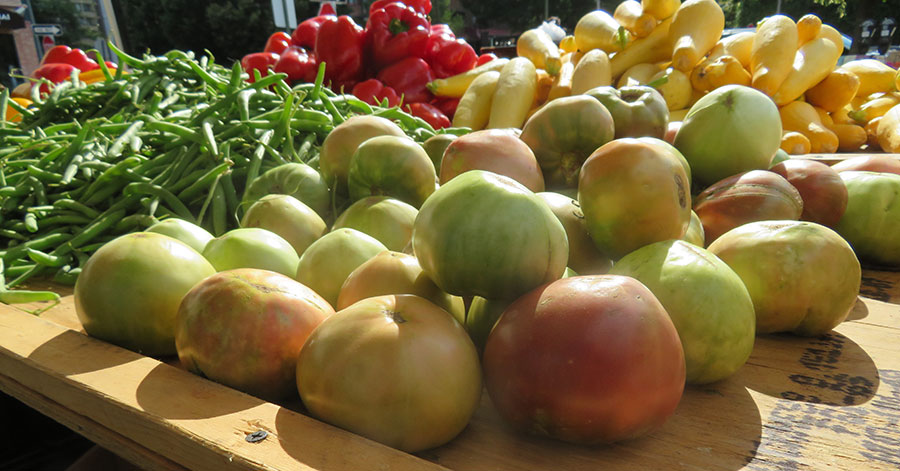 The Temperature is expected to be quite high, so be sure to drink lots of water when you come out to the Market!
The CDC Guidelines now allow fully vaccinated  residents to go about their business without masks but we ask that shoppers, vendors and staff who have not been fully vaccinated continue to wear masks at the market.
Many thanks to all our friends and neighbors for your continued support of our local, small businesses and the Old Town North Community Partnership.
Free Yoga in the Fresh Air is on for Thursday, July 22nd, 5:00-6:00pm
Bring a mat and join us in the Park!
All are Welcome!
Weather permitting.
Shop local, shop happy!
Last week we welcomed two new vendors to the market
WOW Fudge, formerly known as Chocolate Moonshine Company

 
The fudge that Diane Booth sells is a family run business since 1983. Our gourmet fudge is gluten free, has 0 trans-fat, is made without eggs and wheat, is home-made, contains 30% less sugar and is made with all natural ingredients. We have over 150 flavors.
Nonna's Treasures, Showcasing Antiques and Collectibles
This week we welcome returning vendor Chewish Deli back to the market and are joined by …

Ellen of Yellow Dot Shop who has much to share…
"I have new printed, 3-color t-shirts with my own art showing the Masonic Temple and the word, Alexandria. I'll also have the art as matted prints on paper"


Jenna of Passionately Pets brings us her delicious dog and cat treats and of course her easily distracted by dogs tee shirts.
Passionately Pets donates $1 of every item sold to help pets in need in our local community. Their current fundraising partner is Lost Dog & Cat Rescue Foundation.
Be sure to tag @passionatelypets on FB and Instagram!

Ana of Ana's Twist brings us her Signature Soups, served cold or hot, always a perfect choice, Sorbets, Fresh baked Empanadas, Tamales and fresh squeezed juices. I am a devoted fan of her pineapple ginger juice. Many of Ana's offerings are vegan-friendly and gluten-free. Her loyal fans have been raving about her quinoa muffins!

Phone: 703-201-1824
Website: www.anastwist.com
Email: Anastwist2016@gmail.com
Cold Country Salmon is with us this week with a wide selection of wild-caught salmon, chowders, rainbow trout, seafood, and for our four legged friends, salmon skin pup treats.


Coffee lovers rejoice as Claudia of TAL Single Origin and Joel of Qualia Coffee Roasters delight in freshly roasted carefully curated coffees from around the world and Qualia's Cold Brew a favorite with many of our loyal shoppers. Make sure to pick up some of their wonderful roasted coffees to brighten your morning and take a peek at the photos of Claudia and her family on their coffee farm in El Salvador. Claudia also has honey from the hives of the bees on her family's farm and a selection of unique teas.
Website: www.qualiacoffeeroasters.com
Community Market Table featuring Coffee from TAL Single Origin Coffee and more
Farmer Dave, with Papa's Market has been away for a family wedding but we have a limited supply of fresh  fruits and veggies from his farm in Pennsylvania and from Lopez Farms in  Northern Neck Virginia , peaches, corn, blueberries, tomatoes, squash , peppers and more.

Debby of How does Your Garden Grow shares fresh herbs from her garden and offerings  from Tom's Amish Cheese Shop including farm fresh eggs, a variety of cheeses and baked goods.
Family of Nuts looks forward to returning the market with freshly roasted nuts and dried fruits, healthy snacks for a hike or a bike ride this weekend.
Lost  BOY Cider will be away for the next few weeks but you can find them at their Tasting Room or at Tastings around the neighborhood.
St. Elmo's Old Town North is hosting a Tasting with Lost Boy Cider in the next few weeks.
OTN Farmers' Market Fees

Vendor Rent Fee ($150)
* $200 Market Rent for one full year. For 2021 in recognition of the economic challenge presented by CoVid 19 we are offering a CoVid Discount, $150.
Please know the Old Town North Market is a rain or shine market, however, if the weather conditions are unsafe because of thunderstorms and lightning, we may modify the setup and hours for the Market. Announcements will be made on the Market Manager's cell phone line. 571-218-2161 
We encourage preorder and pick up from our vendors and on-site shopping at the market. Items may be pre-ordered for pick up following the links our vendors have shared with us.
Please know the Old Town North Farmer's Market works to adhere to the safety guidelines of the CDC, the Virginia Department of Health, and the updated best practices issued by Governor Northam. Please help us to keep our community safe! Wear a mask, stay home if you feel unwell, use the hand sanitizer at the vendor booths, try to maintain six feet of distance while shopping at the market and, much as we love you, please don't linger!​
We are a rain or shine market but we will cancel if high winds, heavy rains or thunderstorms make conditions unsafe for our shoppers or our vendors. Cancellations due to weather will be announced on The Old Town North Farmer's Market Facebook Page and on 571-218-2161.
Subscribe To Our Weekly Newsletter
No spam, notifications only about new products, updates.