OLD TOWN NORTH CANAL DISTRICT · MONTGOMERY PARK PARKING LOT
901 North Royal Street
Hours: Thursday, 3:00-7:00pm

"You don't have to cook fancy or complicated masterpieces – just good food from fresh ingredients." – Julia Child
Don't let the Spring showers dampen your spirits! Join us today at the Old Town North Farmer's and Artisan's Market.
Congratulations to our vendor Ana Garcia of Ana's Twist. Ana's sorbet, a specialty in her country of Ecuador, has been chosen by the Ambassador of Ecuador to represent Ecuador at the 20th Annual Food Festival of the Americas Celebrating the Cultures of America and Other Regions of the World. Sunday, May 20th from 1-5pm.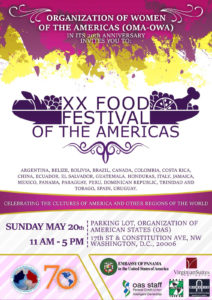 Farmer Lionel Lopez of Lopez Farms continues to share the bounty of his family farm in Warsaw, Virginia, bringing us fresh produce, herbs, and ornamental plants for the garden or balcony and… strawberries! He sold out last week, so stop be early if you can.
Sara from Dream of Goodies continues to delight us with new creations. This week she offers almond anise biscotti, only baked once for a soft texture, but can always be baked again for those who like to dunk it in their coffee; vegan cake jars in tiramisu or coconut chocolate chip, vanilla cake with layered with lemon curd and fresh organic blueberries, cupcakes including the popular lemon zest and vanilla with chocolate avocado frosting; whoopie pies, and mini cakes in cardamom, carrot, or spiced rum.
Shrub District returns to us this week with a wide selection of vinegars and shrubs, perfect for cocktails, sipping with sparkling water, or cooking. All are lovingly crafted with fruits and vegetables from local farms.
Our newest vendor, With Love Lemonade, joins us on May 31st. Save the date for specialty fresh squeezed gourmet flavored lemonades and limeades. Refreshing and healthy!
The Old Town North Farmers' and Artisans' Market is sponsored by The Old Town North Community Partnership with support from the City of Alexandria, MRE Properties, River's Edge Yoga, Yogis For Positive Change and the Alexandria Economic Development Partnership.
See you at the market! Rain or Shine, Year Round!
JOIN OUR MAILING LIST
Sign up for our mailing list and get the latest updates.

athenastyles.com is a trendsetting Fashion Designer Shop, offering our first-rate products and exceptional customer We're a business made up of innovators and forward-thinkers, with the drive and wherewithal to constantly update and improve your shopping experience. At athenastyles.com, super service and top quality merchandise is what we're all about. We work our hearts out making sure to stock all the latest and greatest handmade items at affordable prices.

Dire Necessities

Dire Necessities - Offering handcrafted, scarves, shawls and accessories from Tibet, India and Nepal.

Dream of Goodies is not your normal gluten free bakery. We make delicious yet healthy treats for all to enjoy that are low glycemic, by pairing healthy fats with organic low glycemic sweeteners. Our goodies never contain GMOs, soy, dairy, chemicals, dyes, or artificial anything. We strive to use only the best ingredients that are sustainably sourced, habitat friendly, and organic whenever possible. Our eggs and butter are locally sourced. The hens are feed organic non-GMO feed and are humanely raised. Our butter is organic and comes from pasture raised, grass-fed cows that aren't treated with rBST. We have a wide variety of treats that range from nut free to vegan. You won't believe gluten free and healthy could taste this good. We are woman-owned, eco-conscience, and health oriented. Our packaging contains no plastic and is reusable/recyclable, and/or biodegradable.

Headfirst Summer Camps offers a variety of camp programs for children ages 3-13, and operates in four different locations throughout D.C., MD and VA. Their Virginia locations are at the Flint Hill School in Oakton, VA and at Episcopal High School in Alexandria, VA. Each location consists of a Jr. Day Camp, Day Camp, Multi-Sport Camp, Connect.Create.Discover Camp, STEM Camp and specialty sport camps such as Basketball and Soccer. At their Episcopal High School location, there is also an Overnight Camp option for rising 4th- 6th graders.... read more

Lopez Farm

Lopez Farm - Lionel Lopez and his family bring us fresh local produce in the Northern Neck.
Back with us now!

Shrub District makes cocktail vinegars and syrups from locally sourced, fresh fruit, herbs, and spices. You do not have to be a mixologist to make a perfectly balanced cocktail—their tart, but sweet shrubs, and sweet, but bitter syrups, have everything you need to make a perfect drink at home. Shrub District is the proud recipient of a Good Food Award 2018 for their "Just Grapefruit" cocktail vinegar and is proudly Made in DC!... read more

Sweet Twist of Ecuador Artisan Ice Cream
Healthy n'tasty! Gourmet hand crafted ice cream using only the highest quality ingredients. We create the best fresh gourmet ice cream right in front of you using a traditional Ecuadorian wok called a "PAILA". The "twist" involves using only fresh milk, cream, fruits, and veggies from nearby farms, combined with traditional Ecuadorian flavors and fruits to create a fresh and healthy ice cream cup. We are also proud to offer delicious dairy free and gluten free flavors! We do pets ice cream! Now your pets can also have fun trying special ice cream treats, just with fruits and protein.

TigerSoap

TigerSoap
Handcrafted soaps, lotions, candles. Further info coming soon.

Urbanized - Turn waste into innovative and eco-friendly products. Urbanized Soaps available at the Old Town North Community Table. A share of profits from sale of soaps at the Old Town North Community Market are donated to the Old Town North Partnership's work to create a vibrant, walkable community within Old Town North.
www.urbanized.com

With Love Lemonade specializes in fresh squeezed gourmet flavored lemonades & limeades. Featured beverages include the popular lavender lemonade made with organic culinary lavender flower & ginger lemonade made with fresh pressed ginger root. Not only are we creating refreshing beverages that are delicious but offer many health benefits as well!
SUPPORTERS
Sponsored by the Old Town North Community Partnership with support from the City of Alexandria, MRE Properties, River's Edge Yoga, Yogis for Positive Change and The Alexandria Economic Development Partnership.