OLD TOWN NORTH CANAL DISTRICT
MONTGOMERY PARK PARKING LOT
Farmers' Market Hours: 3:00-7:00pm
Did you know… Farmers Markets preserve farmland and support rural livelihoods? The Old Town North Farmers' Market is committed to supporting local family farms. This year we implemented a growers own policy at the market asking that our farmers sell only what they grow rather than buying from wholesalers. We are also encouraging our farmers to follow sustainable practices.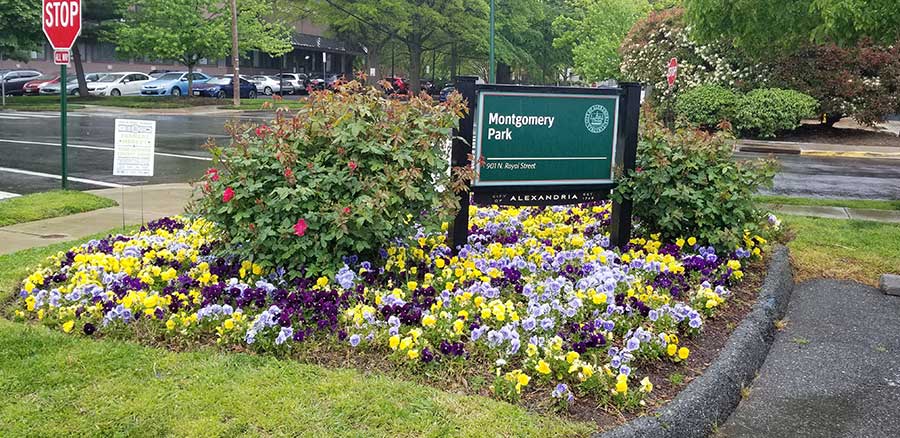 Many thanks to all our friends and neighbors for your continued support of our local, small businesses, and the Old Town North Community Partnership. The following vendors WILL be at the Farmers Market this Thursday!

Shop local, shop happy! 

Ana of Ana's Twist brings us her Signature Soups, a perfect choice as temperatures drop and the wind picks up, Sorbets and fresh baked Empanadas; many of Ana's offerings are vegan friendly and gluten free. Kudos to Ana for her recent mention in Virginia Living Magazine. Read all about her here.
Phone: 703-201-1824
Website: www.anastwist.com
Email: Anastwist2016@gmail.com
We are so happy to be working with David Argento's Papa's Market who joins us this week with a wide selection of fresh produce and Apple Cider sourced from locally grown apples.
Coffee lovers rejoice as Claudia of TAL Single Origin and Joel of Qualia Coffee Roasters delight in freshly roasted carefully curated coffees from around the world and Qualia's Cold Brew a favorite with many of our loyal shoppers.
Make sure to pick up some of their wonderful roasted coffee.
Website: www.qualiacoffeeroasters.com
We welcome Cynthia Hernandez to the Market again this week. She is the owner of WaXx N' Wiicks offering homemade candles and wax melts. She offers 10 different scents in 7 oz. and 5 pack wax melt, $12 and $6 respectively. She started making them about 2 months ago and has been taking mail in orders. You can find more information about WAXx N' Wiicks here: WaXx N' Wiicks Instagram
Tom's Amish Cheese Store carries fresh Goat Milk and Raw Milk cheeses, Farm Fresh Eggs from happy free range hens, Yogurts and Baked Goods all from Amish Farmers in Lancaster County! Debby Critchley of " How Does Your Garden Grow?" will be selling her fresh grown herbs when they are ready for sale and staffing the Tom's Amish Cheese Store booth.

We are excited to welcome new vendor Megan of the Dapper Jack.
Megan brings us a delightful selection of decorative items for your home. Perfect for brightening the home for Spring.
At the Community Market we have freshly roasted nuts and dried fruits from Family of Nuts in Chantilly, VA. We will also be selling Goat Milk Soaps from our friends at Cheese Goatees, who lovingly hand craft the soap from the milk of their herd of 50 Alpine Goats!




Please text or call to preorder and arrange to pick up.
Phone: 571-218-2161

FEATURED VENDOR
Papa's Market
We are so happy to be working with David Argento's Papa's Market which offers Fresh Produce including apples, blueberries, sweet potatoes, fresh spinach, broccoli, farm fresh honey, maple syrup, Apple Cider.
Guest Vendors
Frauke of PorkStork hopes to be with us this week if she has special orders for pick up!
Do make sure to place your preorders!
Website: www.porkstork.com
Email: theporkstork@gmail.com


Mesisam Ethiopian Eatery is now proving a big hit at the Del Ray Farmer's Market on Saturdays. Mesi and her husband Anthony share a wide selection of traditional Ethiopian dishes including spicy lentils, green beans spicy spinach and more, all served with Injera.
We hope she will continue at the Thursday Market as a guest vendor.
We'll keep you posted!
Phone: 240-505-0040 / 703-594-602
Website: www.mesisamtheethiopianeatery.com


We are delighted to welcome new vendor, Feride Özkan back  to the market on select Thursdays. Ozfeka Catering delivers fresh, authentic Turkish cuisine to your door. Our shoppers love her selection of Turkish Foods and we will let you know when she will next be at the market.

Ozfeka welcomes special orders and will deliver!
Phone: 571-216-5893
Website: www.ozfekacatering.com
Facebook: www.facebook.com/ozfeka
From Politics to Pastry

This week we're spotlighting that delicious Italian workhorse, the biscotti:
Our always-popular double chocolate biscotti ($10/dozen): cocoa powder and semi-sweet chips come together in this deep and delicious treat with just a hint of salt—perfect on its own or as a dipper in your coffee or tea!

PB&J Scones ($5/ea; 6/$25): peanut butter chips and dried strawberry pieces make a fantastic scone reminiscent of childhood. Topped with sparkling sugar for a hint of sweetness and a nice light crunch. Dessert or breakfast—you decide!

Traditional almond biscotti ($10/dozen): a "vanilla" biscotti base generously filled with thinly-sliced almonds creates a true taste of Italia! Dunk in your espresso, nosh with your tea, or simply enjoy on its own as a snack, dessert, or breakfast.
Orders can be placed thru this Wednesday for pickup in Alexandria, VA this Thursday thru Saturday. Please reply to this email to order. Payment must be contactless (electronic via PayPal, Venmo, or credit card over the phone), and there is a minimum total order of $20.00. Exact pickup address will be shared upon order confirmation, but it is in Alexandria, VA near TC Williams High School.
Upcoming classes include:
The perfect spring break activity, our Kids Baking 101 class (featuring Mississippi Mud Cake). Offered on Tuesday, March 30th and again on Saturday, April 3rd;
A special kosher-for-Passover cocoa raspberry amaretti class on Wednesday, March 31st, which is also gluten-free (almond flour only, no wheat flour).
LOTS of options, y'all! And check out our class calendar for even more classes, currently scheduled into August.
I hope you see something that makes you smile.
As the weather warms we look forward to welcoming several new and returning vendors to the market.
Please know the Old Town North Market is a rain or shine market, however, if the weather conditions are unsafe because of thunderstorms and lightning, we may modify the setup and hours for the Market. Announcements will be made on the Market Manager's cell phone line. 571-218-2161 
We encourage preorder and pick up from our vendors and on-site shopping at the market. Items may be pre-ordered for pick up following the links our vendors have shared with us.
Please know the Old Town North Farmer's Market works to adhere to the safety guidelines of the CDC, the Virginia Department of Health, and the updated best practices issued by Governor Northam. Please help us to keep our community safe! Wear a mask, stay home if you feel unwell, use the hand sanitizer at the vendor booths, try to maintain six feet of distance while shopping at the market and, much as we love you, please don't linger!​
OTN Farmers' Market Fees

Vendor Rent Fee ($150)
* $200 Market Rent for one full year. For 2021 in recognition of the economic challenge presented by CoVid 19 we are offering a CoVid Discount, $150.
We are a rain or shine market but we will cancel if high winds, heavy rains or thunderstorms make conditions unsafe for our shoppers or our vendors. Cancellations due to weather will be announced on The Old Town North Farmer's Market Facebook Page and on 571-218-2161.
Subscribe To Our Weekly Newsletter
No spam, notifications only about new products, updates.