OLD TOWN NORTH CANAL DISTRICT · MONTGOMERY PARK PARKING LOT
901 North Royal Street
Summer Hours: 4:00-8:00pm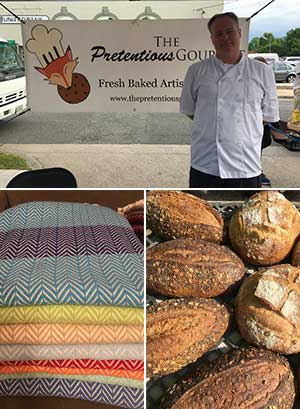 Sara of Dream of Goodies introduces a new cookie flavor cardamom spice and a double chocolate strawberry mini cake along with other mini cake flavors carrot, cardamom pistachio spice, and chocolate raspberry. All of Sara's goodies are gluten free, low glycemic, non GMO and truly delicious. Lionel Lopez and his family continue to share the bounty from their farm in the Northern Neck. Lionel's produce is often found on the menu at local, neighborhood favorite a la Lucia.
Rumor has it Ana of Sweet Twist of Ecuador will soon be sampling Empanadas made with local produce. For a complete list of what is in season check out http://www.vdacs.virginia.gov/pdf/producechart.pdf.
Chef Michael of The Pretentious Gourmet brings us his Black Forest Cake, Chocolate Chip, Chai Spiced, and Cranberry and White Chocolate Oatmeal recipes…along with treats and toys for our four legged friends.
The Old Town North Farmers' and Artisans' Market is sponsored by The Old Town North Community Partnership with support from the City of Alexandria, MRE Properties, River's Edge Yoga, Yogis For Positive Change and the Alexandria Economic Development Partnership.
See you at the market! Rain or Shine, Year Round!
JOIN OUR MAILING LIST
Sign up for our mailing list and get the latest updates.

Big D's Savories and Specialty Breads
Chef Declan trained in France, his offerings are informed by his training in Europe and his childhood in Dublin.

Chaliskan Turkish Towels - is famous with its high quality and fast drying which makes Turkish towels very popular all over the world. Our Turkish towels, blankets/throws, bathrobes, ponchos are 100% organic cotton, handwoven authentic products. They are woven in the city of Buldan/Turkey which is famous village with cotton weaving... read more

Dream of Goodies is not your normal gluten free bakery. We make delicious yet healthy treats for all to enjoy that are low glycemic, by pairing healthy fats with organic low glycemic sweeteners. Our goodies never contain GMOs, soy, dairy, chemicals, dyes, or artificial anything. We strive to use only the best ingredients that are sustainably sourced, habitat friendly, and organic whenever possible. Our eggs and butter are locally sourced. The hens are feed organic non-GMO feed and are humanely raised. Our butter is organic and comes from pasture raised, grass-fed cows that aren't treated with rBST. We have a wide variety of treats that range from nut free to vegan. You won't believe gluten free and healthy could taste this good. We are woman-owned, eco-conscience, and health oriented. Our packaging contains no plastic and is reusable/recyclable, and/or biodegradable.

Lopez Farm

Lopez Farm - Lionel Lopez and his family bring us fresh local produce in the Northern Neck .

Sweet Twist of Ecuador Artisan Ice Cream
Healthy n'tasty! Gourmet hand crafted ice cream using only the highest quality ingredients. We create the best fresh gourmet ice cream right in front of you using a traditional Ecuadorian wok called a "PAILA". The "twist" involves using only fresh milk, cream, fruits, and veggies from nearby farms, combined with traditional Ecuadorian flavors and fruits to create a fresh and healthy ice cream cup. We are also proud to offer delicious dairy free and gluten free flavors! We do pets ice cream! Now your pets can also have fun trying special ice cream treats, just with fruits and protein.

The Pretentious Gourmet is a bakery located in the City of Alexandria specializing in fresh baked cookies. Our vision is to elevate the cookie from a simple treat into an art form. Our focus on quality ingredients and diverse flavours make our cookies a delight for the gourmand in all of us.
Website: www.thepretentiousgourmet.com

Unique Jewelry and Things

Unique Jewelry and Things
Hand crafted sterling silver jewelry and home decor items from India
SUPPORTERS
Sponsored by the Old Town North Community Partnership with support from the City of Alexandria, MRE Properties, River's Edge Yoga, Yogis for Positive Change and The Alexandria Economic Development Partnership.