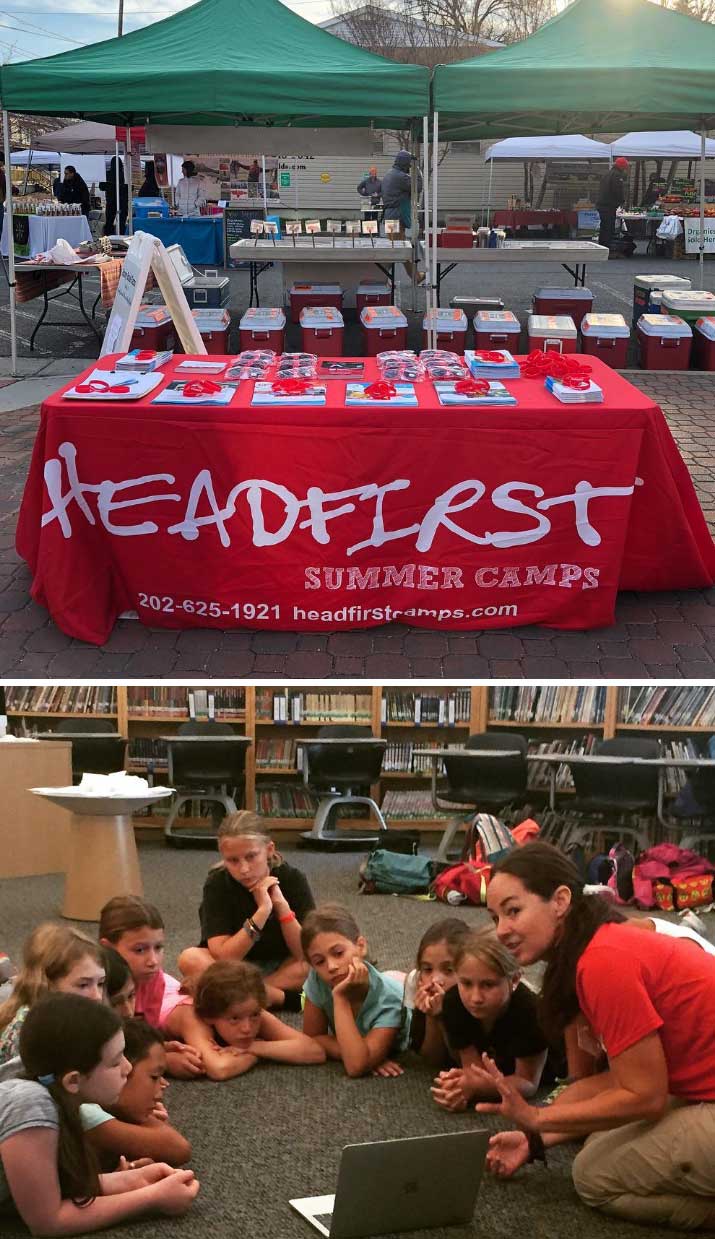 Headfirst Summer Camps offers a variety of camp programs for children ages 3-13, and operates in four different locations throughout D.C., MD and VA. Their Virginia locations are at the Flint Hill School in Oakton, VA and at Episcopal High School in Alexandria, Va. Each location consists of a Jr. Day Camp, Day Camp, Multi-Sport Camp,Connect.Create.Discover Camp, STEM Camp and specialty sport camps such as Basketball and Soccer. At their Episcopal High School location, there is also an Overnight Camp option for rising 4th– 6th graders.
Headfirst always makes a strong effort to stay committed to their families and the communities they live in, and have been nice enough to offer a discount of up to 15% exclusively for the patrons of the Old Town North Farmers Market. The code for this discount is hffam18. Registration is now open to all who are interested, but feel free to give Matt Sternberg a call and he can help put together a great summer for you. Below is the link to the costs and dates page, where you can see a full list of programs and the dates they are offered. Given the small camper: counselor ratio attached to each program, these camps will sell-out – So while it may seem early to think about summer camp, I encourage you to enroll over the next few weeks to receive this unique discount, and reserve your child's spot in these popular programs. Side note: Headfirst is extremely flexible about scheduling weeks of camp, and allows families to adjust their schedule as we get closer to the summer months – which is extremely convenient!! 
Please click here for the list of costs and dates at the DC, Bethesda, Alexandria or Oakton, VA locations.
At Headfirst Summer Camps, our mission is to inspire campers' personal bests. We believe the power of play is one of the most effective ways to bring out each and every personal best. In our eyes, every kid is unique. And every "best" is, too. Summer is a time for exploration. Our experience shows that guided exploration leads to the realization of untapped passion and talent. Let us be clear, we do not create or assign these "bests" – they are already there, within each child. In fact, you've probably already seen glimpses of greatness. Our role is to simply help campers unearth it, and nurture it — so we can all watch it blossom into something incredible. And because every kid isn't the same, our approach isn't either. We pride ourselves on being flexible and adaptable — meeting them where they are on their journey. Passion cannot be forced out of a child. It must be awakened, and brought out naturally. We won't quit until we've given every child the tools they need to find that magic, that passion, that unique gift that drives them to succeed. Hope to see you this summer!